Outside for the seventeenth
sizzling summer, tankers
roar overhead towards the forest
to bomb the fizzling flaring flames
and helicopters hover
and dump buckets of water.
 
Inside it is cool and quiet as we
watch the smoke billowing
against a blue sky and the flames
zigzagging against the black of night
as they reach the top of the hill while we
drink our coffee and tea, eat egg
 
whites stuffed with avocado, tuna
salad and roasted chicken, dust,
mop, wash dishes and clothes,
email and text concerned friends
who shout in caps: GET OUT. THE FIRE
IS GETTING CLOSER AND CLOSER!
 
But we are strangely calm as we play
Skipbo and poker, watch movies, shower,
brush our teeth and sleep soundly
knowing the forest service command post
Is between us and the fire and they have a plan
to evacuate us if the flames head down the hill.


© by Sharon Waller Knutson.
Used with the author's permission.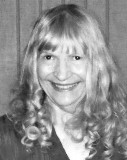 Sharon Waller Knutson lives in a house her husband, Albert, built out of clay from the land on a dirt road in the middle of the wildlife habitat and open range of the Arizona desert. A retired journalist, she writes poetry for readers who don't normally read poetry. In 2014, Sharon sold her chapbook, My Grandmother Smokes Chesterfields, to winter visitors from all over the world in a café where her husband played guitar and sang country music. Her customers told her they expected her to publish a new poetry book when they returned each year so, in 2015, she published Desert Directions, about her life in the desert. In 2016, she published They Affectionately Call Her a Dinosaur, poems about her customers and other seniors in her life who started new careers, businesses, and relationships after they retired. And in 2017, Sharon published I Did it Anyway, poems about how she broke the glass ceiling in the newspaper business in the '60s and '70s, when women were typically relegated to the society pages. This year, Albert retired from playing music so Sharon now operates her bookselling operation online.
Lori Levy:
Powerful contrast between what's happening outside and what's going on inside the house.
Posted 07/02/2019 03:58 PM
barbsteff:
Impressive. Good use of sound. Spot on story!
Posted 07/02/2019 03:47 PM
michael escoubas:
What an important and timely poem for our times and for the courage of those who protect us. Thank you, Sharon.
Posted 07/02/2019 07:50 AM