songs echoing off
bare shoulders,
backs, necks
and scorched
shoulder blades
 
dry mouths longing for
lemonade made with
light brown sugar
stirred and stirred
with just the right
amount of angostura
bitters and lime
bringing it to perfection
 
tender kisses exchanged
while sitting 
on park benches
as innocence
and butterflies
flitter away on the breeze
finally becoming
tangled in the leaves
of watchful trees
 
puppies running
through gardens
and backyards,
yipping and barking
at little ones
who run for their lives
giggling all the way,
bursting with joy
from summertime
play


© by Arlene Antoinette.
Used with the author's permission.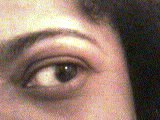 Arlene Antoinette is a West Indian-American who writes poetry, flash fiction, and song lyrics. She enjoys writing about everyday experiences and her work has appeared in a number of journals. Antoinette lives in Florida.
Lori Levy:
Especially like the lemonade stanza.
Posted 07/09/2019 10:04 PM
Janet Leahy:
Vivid details make this a lovely poem, nostalgic for these slow summer days. Thanks Arlene
Posted 07/09/2019 11:12 AM