It's hard to imagine prehistoric New Jersey.If I hadn't heard about the fossils
behind the Lowe's parking lot, I woulda just assumed there was never a
Garden State of Ammonites.
 
Who can picture that shallow sea, salty and thick,
covering this land of Sunoco stations and pizza joints,
of refinery and rest stops.
 
It's hard to think about the squid's ancestors living their lives,
right there, thirty miles from Newark.
 
I'd like to dig around in the hardened muck, poking through
centuries, uncovering the secrets of the pinna
abruptly stopped in their tracks
by the belching of a crude planet.
I'd like to find the carcasses of the Cretaceous yesterday,
somewhere between the Turnpike and tomorrow.


© by Gabriella Brand.
Used with the author's permission.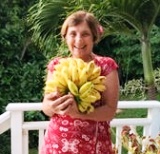 Gabriella Brand is a language teacher, a writer, and an adventurer. She has done several long distance treks in Europe and Asia. Gabriella divides her time between Connecticut and Quebec, where she teaches French to refugees and paddles her own canoe. Learn more about her at https://gabriellabrand.net/.
Jo:
Loved the poem, the images it conjured. The language is amazing.
Posted 07/11/2019 12:06 PM
michael escoubas:
Unique and fun, Gabriella! Maybe I can unearth a few bones in the corn fields of central Illinois! I'm looking for my spade. Thank you for this smile.
Posted 07/11/2019 08:28 AM
Larry Schug:
Some day the earth will cover the pizza joints and refineries, too. I like where this poem led me.
Posted 07/11/2019 06:52 AM
paula:
Wonderful poem; great language!
Posted 07/11/2019 05:18 AM