Wake up slender
to faint light
seeping through shutters.

The sun, a freshly-peeled orange,
begins its climb;
dawn spreads out a picnic
on bright cloth.

Breakfast on melon, egg, hopeó
grant yourself
reprieve from disbelieving.
Breathe the aroma
of exonerated earth.

The day is bound to narrow,
its conclusion
promises to be dark.
For now the world
is filling with radiance.
See how the morning glories
trumpet on the white fence.


© by Kathleen Brewin Lewis.
Used with the authorís permission.
†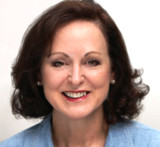 Kathleen Brewin Lewis calls herself "an avowed nature nut" who grew up around the beaches and marshes of coastal Georgia, outside the city of Savannah. An avid hiker, she's walked many glorious trails through the mountains and meadows of North Georgia, North Carolina, and the national parks. Kathleen is the author of two chapbooks, as well as several short stories, essays, and book reviews. Mother of two grown children, Kathleen lives in Atlanta with her husband, Jeff. Learn more about her here.
Lori Levy:
Beautiful images. Love the last line about the morning glories.
Posted 07/25/2019 12:16 AM
Jo:
beautiful and unique images. Thank you, Kathleen.
Posted 07/24/2019 08:25 PM
Sharon Waller Knutson:
Loved this gorgeous poem. The metaphor of the sun as a freshly peeled orange and dawn spreads out a picnic on bright cloth are exquisite.
Posted 07/24/2019 01:46 PM
Wilda Morris:
"The sun, a freshly-peeled orange," - beautiful!
Posted 07/24/2019 01:27 PM
paradea:
Beautiful!!!
Posted 07/24/2019 10:16 AM
KevinArnold:
I?m gobsmacked. First by the title, just smashing. And she never let me down. If Kathleen weren?t married, I?d already be on a plane to Georgia. Jeff, huh. Lucky guy.
Posted 07/24/2019 09:22 AM
cork:
I will never see the sun the same again.
Posted 07/24/2019 08:57 AM
Larry Schug:
"reprieve from disbelieving", "exonerated earth"--much to ponder in these phrases.
Posted 07/24/2019 06:45 AM