All summer the scaffolding
Reached to heaven, and I looked
Up, my neck aching and knowing
Those heights were not mine.
I worked in mud, mortar, brick.
The stuff of this earth,
But I obeyed commands
From above. Stiffer
Or looser in the mix, more
Or less until it is just right,
But it is never just right.
So the day is divided into
Caught up, and just a bit behind.

"He's a good hand," I overhear
The mason say,
In  an accent
From somewhere else,
And I take those words
Home with me that night along
With my black lunch box,
And a quart of cold beer,
And years later
I build with them
This poem.

This poem was first shared on Wordish (KAXE Radio, Grand Rapids, MN).
Used here with permission.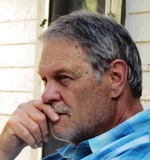 Larry Gavin is the author of four books: Necessities, Least Resistance, Stone and Sky, and The Initiation of Praise--all published by Red Dragonfly Press. Larry lives in Faribault, Minnesota, where he spends time fishing for trout and worrying the local rabbits with a small pack of beagles.
Wilda Morris:
Wonderful crafting. Wonderful message. As Jo said, it came as a blessing this morning.
Posted 07/29/2019 11:16 AM
Dog poet:
Great poem!
Posted 07/28/2019 09:14 PM
Jo:
In reading this poem, I felt a blessing. I?m not kidding. It just lifted me up in the crafting of the poem and the spirituality of your message. I?ve downloaded it for my personal anthology. Thank you so much
Posted 07/28/2019 08:28 PM
michael escoubas:
Poets are "Makers". This is consummately demonstrated in this poem Larry. Thank you.
Posted 07/28/2019 05:05 PM
Lori Levy:
Great poem. Understated, but powerful.
Posted 07/28/2019 04:24 PM
Arlene Gay Levine:
Lifts the heart and soul; a cathedral of a poem!
Posted 07/28/2019 03:43 PM
CamilleBalla:
I love every part of this poem, the tender and spiritual message as well as the wonderful way it is crafted. It speaks to me of the mason as well as other tradesmen who have to weather heights and work conditions.. ?Brick Tender? is an excellent title and is one of those poems that I will remember. Thank you. It would also be great to be published in newspapers and/or other publications to celebrate Labor Day.
Posted 07/28/2019 12:41 PM
Gilbert Allen:
A well built poem indeed.
Posted 07/28/2019 11:50 AM
cork:
"A good hand" is a common Wyoming ranch term.
Posted 07/28/2019 09:31 AM
paradea:
The title fits this poem so well. I really liked it!!
Posted 07/28/2019 08:16 AM
Larry Schug:
"Brick Tender" hits home in so many ways--the beauty in using our wonderful bodies to accomplish honest work, the relationship of workers (and bosses, "commands from above", looking up, the lunch box, the beer, the kind of experiences from which good poems come. I'd put this poem in the same class as the work of Philip Levine.
Posted 07/28/2019 07:43 AM
jeeger:
My Dad laid cement blocks and bricks for much of his life. Your poem touched a tender spot! Well done.
Posted 07/28/2019 07:05 AM