At daybreak in the Smokies
I saw my first fallen cloud. Mother
called it fog, but it looked like heaven
dropped down to look around.

Billowing white beckoned,
if I could reach it before the sun
took heaven back to be
one more cloud in the sky.


From Biting the Apple, (Penciled In, 2012).
Used here with permission.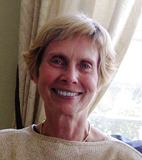 Jeanie Greensfelder is the author of three poetry collections and her work has been featured on Writers' Almanac and American Life in Poetry. A psychologist, Jeanie seeks to understand herself and others on this shared journey filled, as Joseph Campbell said, with sorrowful joys and joyful sorrows. Jeanie lives with her husband Andy in San Luis Obispo, California, where she volunteers as a bereavement counselor and where she served as the 2017-18 Poet Laureate for that city. Learn more about her at jeaniegreensfelder.com.
barbsteff:
I saw my first fallen cloud. Wonderful image!
Posted 07/31/2019 03:21 PM
Lori Levy:
Beautiful image.
Posted 07/30/2019 02:46 PM
KevinArnold:
Fun. I like the hunted-at pop culture John Denver reference, the brevity, and the hint of religion.
Posted 07/30/2019 11:47 AM
michael escoubas:
This poem is like a tasty breakfast-bite to begin the day in the sun. Thank you Jeanie!
Posted 07/30/2019 11:37 AM
vscholtz:
Wonder-filled imagery. Thanks
Posted 07/30/2019 07:37 AM