Working class cousin
of a crouton, I am crushing
you between my palms into a bowl
of Campbell's Tomato Soup.
Sometimes I spread you with butter
or P & J, or make four tiny
sandwiches with a quartered slice
of American yellow cheese.
Cracker I once eschewed
for fancier crackers, I take you back.
You are trusty like old love,
the only cracker, when washed down
with Coke, able to soothe my queasy belly.
My grandpa broke a sleeve-full
into a bowl, topped the crumbles
with whole milk, sometimes
on summer nights, for supper.


From Gravity: New & Selected Poems (Tebot Bach, 2018).
Used here with permission.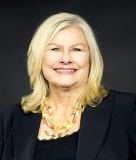 Donna Hilbert writes and teaches private workshops from her home in Long Beach, California. A monthly contributor to the online poetry journal Verse-Virtual, her work is widely published in multiple languages and she is featured in the documentary, "Grief Becomes Me: A Love Story." Donna's most recent collection is Gravity: New & Selected Poems, from Tebot Bach, and she has several poems in The Widow's Handbook (Kent State University Press). Learn more about her at www.donnahilbert.com.
Jeri Thompson:
I don't know about the milk, but those are my favorite crackers too, esp in soup!So relatable!
Posted 12/14/2019 01:24 AM
Jo:
My grandpa used to do that. He so loved sitting on the porch at dusk with his crackers. Thanks so much for this poem.
Posted 08/02/2019 08:52 PM
Jancan:
Yum! Plain stuff can be so desirable. Good poem
Posted 08/01/2019 10:02 PM
Lori Levy:
Wouldn't have thought of these crackers as being special, but now I feel like having some!
Posted 08/01/2019 06:31 PM
MLove:
Read this aloud while my sisters were fixing their lunches in our beach house - last vacation trip of the summer. Great poem for and end of summer day. We loved it!
Posted 08/01/2019 12:37 PM
michael escoubas:
Lightly buttered, crunched with tomato soup--that's livin'. Thank you Donna!
Posted 08/01/2019 11:53 AM
joecot:
Donna's poems always mix sugar and salt into little gourmet feasts.
Posted 08/01/2019 11:06 AM
penhart:
A yummy memory and poem! Donna, You brought back my memories of saltines broken into a bowl of Liptons chicken noodle soup,the kind from the packet my Nana stirred into boiling water.
Posted 08/01/2019 10:54 AM
Maryann Hurtt:
Mother comfort...saltines and ginger ale. Thank you for the memory, Donna.
Posted 08/01/2019 09:58 AM
cscoville:
And broken up into a bowl of homemade vanilla ice cream is one of life's great treats. Thanks for a poem that elicits so many good memories.
Posted 08/01/2019 09:51 AM
Nancy R:
I can taste them through your words, Donna.
Posted 08/01/2019 09:44 AM
Sharon Waller Knutson:
This wonderful poem is why Donna Hilbert is one of my favorite poets.
Posted 08/01/2019 09:25 AM
vscholtz:
So flavorful, so true.
Posted 08/01/2019 09:08 AM
cork:
As a child, I used to chew them until they became sweet.
Posted 08/01/2019 09:03 AM
Sarah Russell:
Wonderful! Great memories of saltines that my mom and dad often had broken and slopped with milk (and salt and pepper!) before bed. Only thing to have with Campbell?s Chicken Noodle Soup, and my husband insists they go in chili,
Posted 08/01/2019 08:52 AM
Janet Leahy:
I read "Your Daily Poem" before breakfast so this morning I'll find the Saltines and put crunchy peanut butter on a few and enjoy them with coffee. Thanks for the good memories this poem unlocks.
Posted 08/01/2019 08:22 AM