Tick killers
Fly swatters
Gnat slayers
 
Mosquito squishers
Mice poisoners                                  
Ant exterminators
 
Snippers of errant basswood branches
Weed whackers
Uprooters of wandering Queen Anne's Lace
 
He roars up the road on his 3-wheeler
Wild turkeys scatter
She blasts music on the dock
Great Blue Heron,                 
startled in the reeds, rises
into the great blue sky—ah yes, the sky . . .
 
She curses the dark
He hates the rain
They can't abide the wind
The sun is too hot
 
Just another weekend
at their northern retreat


© by CJ Muchhala.
Used with the author's permission.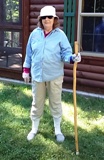 CJ Muchhala lives in Wisconsin, within walking distance of that Great Lake, Michigan, but in spring and fall you'll find her in the north woods, where she has seen a bear with four cubs and listened to the music of bullfrogs on the Wisconsin River. CJ's poetry, fiction, and children's stories have been published in a variety of on-line and print journals, in anthologies and art/poetry exhibits, and have been nominated for regional and national awards (even won a few!).
Jo:
What a fun poem.
Posted 08/07/2019 10:27 PM
Lori Levy:
Great!
Posted 08/07/2019 03:07 PM
barbsteff:
Excellent!
Posted 08/07/2019 01:44 PM
cork:
As I read this poem, I could hear a radio blasting music in a wilderness area.
Posted 08/07/2019 09:14 AM
vscholtz:
You've said it. I'm trying to preserve a small wild are in my city, but we city dwellers love the vision of north woods - all the while wanting it to be more neat and more comfortable. PS - I agree with Larry about the heron lines.
Posted 08/07/2019 07:40 AM
Larry Schug:
Go back to the 'burbs and leave me alone. Gotta love this poem! The words about the heron are a poem of their own.
Posted 08/07/2019 07:26 AM
paula:
Fun!
Posted 08/07/2019 05:52 AM