I smooth the napkins
on the board, waiting
for the iron to reach "linen".

My fingers touch the rose pattern,
soft and white as baby powder,
as I inhale, hoping to capture
Grandma's scent.

Then somewhere in the dim
gauzy memory of my childhood
I am eating Sunday dinner
at Grandma's table.


© by Merle Hazard.
Used with the author's permission.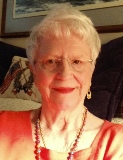 Merle Hazard lives in Macon, Georgia. Her poems have appeared in a number of secular and inspirational publications. A home health and hospice nurse for many years, she worked as a director of programs as well as at bedsides. Now retired, Merle enjoys reading, walking, playing bridge, feeding the birds, her garden, and spending time with friends and family--including her two sons and six grandchildren.
barbsteff:
Spot on, Merle! Grat use of memory. Barb Germiat
Posted 08/12/2019 12:04 AM
Lori Levy:
Love the way the napkins bring the poet back to her grandma.
Posted 08/11/2019 11:32 PM
Wilda Morris:
Brings back memories of the yellow table cloth and napkins that graced my grandmother's table for Sunday dinners. We had friend chicken most Sundays, so my sister and I called them "chick'n na'kins."
Posted 08/11/2019 05:50 PM
obepoem:
Very nice!
Posted 08/11/2019 03:58 PM
CamilleBalla:
So lovely, Merle. And what a blessing that you have such wonderful memories of your grandmother in the fabric of your own life. I like ?dim gauzy memory....? 💕
Posted 08/11/2019 11:17 AM