The Park, always polite but punctual,
sweeps its last human visitors onto the sidewalk.
A bit bewildered, we head home, unaware
of the trees singing soft green lullabies
as they brush out each other's branches
with their tender twig-fingers.

The busy clans of tree-dwellers
stop their bird-bickering and squirrel-squabbling,
get about the business of closing up shop.
How industrious they all are working together,
beak and paw, wing and jaw,
rolling back the grass like a big tarp,
tucking every little violet and toadstool
in for the night.

Thistleheads and sturdy Prairie grasses
reach up, catch the hem of dark,
pull it down like an old blanket, tattered and torn,
for the spiders to mend.
Soon, all is hushed,
nimble muskrats and resident raccoons
the only ones left with a job to do:
embossing the first-to-be-seen
evening stars with new silver threads.


© by Gay Guard-Chamberlin.
Used with the author's permission.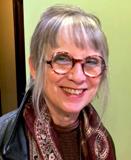 Gay Guard-Chamberlin is a poet and artist living in Chicago. A member of the Illinois State Poets Society, Poets & Patrons, and Tall Grass Writers Guild, her first chapbook, Red Thread Through a Rusty Needle, will be published in November by New Wind Publishing. Gay is also a collage / assemblage artist and lately, when not wrestling words, she can be found taking apart old jewelry and making it into wearable art.
Toni Monfort:
Evocative and lovely imagery. Looking forward to your book.
Posted 09/13/2019 05:25 PM
CamilleBalla:
Wonderful poem! The kind I will remember when I see those signs on the park regarding time it closes. I love the unexpected rhythm and rhyme of ?beak and paw, wing and jaw?. I chuckle that the park has a life after it closes. Beautiful poem with the inclusion of wit and lightness. And?nice to meet you, fellow member of ISPS!
Posted 08/28/2019 11:53 AM
Janet Leahy:
Wonderful!!!!
Posted 08/28/2019 11:37 AM
Lori Levy:
Great poem. Unique idea!
Posted 08/27/2019 10:48 PM
joecot:
When the park closes at night, the poets go home and write with delight. What a wonderful poem.
Posted 08/27/2019 11:54 AM
Glen Sorestad:
This is sheer delight to read, Gay. Witty, yet precise and perceptive. Wonderful!
Posted 08/27/2019 11:23 AM
paradea:
This is a beautiful description of the park "caretakers"!!
Posted 08/27/2019 10:40 AM
cork:
What a smooth flow of carefully chosen words!
Posted 08/27/2019 08:19 AM
vscholtz:
conceit or anthropomorphism? I do love the imagery, especially "reach up, catch the hem of dark, pull it down like an old blanket" Thanks, Gay, for nurturing nature in the city.
Posted 08/27/2019 06:55 AM
Charly:
Oh, my. Such delight. And I could see this as a beautiful childrens' book.
Posted 08/27/2019 06:42 AM
bbatcher:
An absoulutely amazing conceit. Congratulations.
Posted 08/27/2019 06:27 AM