If a seed,
as small as a freckle
can swell and sprout,
shake off its fears
unfurling a stem
strong enough
to push
the dirt aside,
then maybe I
can lift my head
and raise my arms
like triumphant leaves
welcoming the sun.


© by Jacqueline Jules.
Used here with the authorís permission.
†
†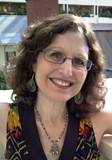 Jacqueline Jules is a former librarian who found herself intrigued by almost every book she put on the shelf. As a reader and as a writer, she doesn't restrict herself to one genre. A resident of Virginia, Jacqueline is the author of 40 books for young readers on a wide variety of topics. Her poetry has appeared in more than 100 publications, including three chapbooks: Field Trip to the Museum (Finishing Line Press), Stronger Than Cleopatra (ELJ Publications), and Itzhak Perlman's Broken String (Evening Street Press.) Learn more about Jacqueline at www.jacquelinejules.com.
Gilbert Allen:
A fine poem to begin the day.
Posted 09/05/2019 08:05 AM
KevinArnold:
I like "strong enough / to push / the dirt aside, Does a lot of work.
Posted 09/05/2019 08:03 AM
Larry Schug:
Maybe we all can! Much inspiration in so few words; a good poem in so many ways.
Posted 09/05/2019 06:51 AM