My sympathy to those of you
not living in or passing through
the Garden State at summer's end;
You don't know what you're missing, friend.

Our corn deserves its reputation
as best of any in the nation —
milky kernels, sugar-sweet,
a buttered, salty, summer treat.

Imagine summer on your tongue —
those happy times when you were young
and days were never-ending bliss —
Jersey Sweet Corn tastes like this.


This poem first appeared on the Society of Classical Poets website (December 2016).
Used here with permission.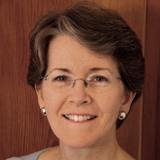 Pat Brisson is a former elementary school teacher, school librarian, and reference librarian in a public library. She has been writing picture books and easy-to-read chapter books for almost thirty years. Pat coordinates Project Storybook, a program at Edna Mahan Correctional Facility for Women in Clinton, New Jersey, which allows incarcerated mothers to select, record and mail books and tapes to their children. She received the N. J. Governor's Volunteer Award in Human Services for this wonderful project. Pat lives in Phillipsburg, New Jersey; learn more about her at www.patbrisson.com.
Nabby Dog:
As one who was born and raised in New Jersey and I can attest that this lovely poem speaks the truth about our delicious corn. It is an eloquent and fitting tribute!
Posted 09/17/2019 10:53 AM
paradea:
Love it...corn and poem!!! Here in NC, we have Silver Queen!!
Posted 09/17/2019 08:56 AM
cork:
I love your rhyming couplets.
Posted 09/17/2019 08:16 AM
MLove:
Another great poem from the author of "Before We Eat" - one of my favorite books!
Posted 09/17/2019 05:28 AM