In our bathroom, ribbony damp strips
reveal a dank and rotting world
beneath an antique garden that was once
new wallpaper. "We've got to fix this,"
I tell my husband.
"No, I like it this way," he says.
"It reminds me of Paris."

I think of Paris today as I look at my face
in the bathroom mirror.
So many people keep their faces up
as we might our bathroom walls,
moist and pale, pulled up tight,
stitched and stapled; they even learn
to free their faces of feeling,
to meet the world with a mask
that is smooth and shiny and which may
indeed look good, but we are not fooled.
You can see death's shadow
on their gleaming hair
if you know how to look for it.

I want my own face to bear the memory
of every time I ever cried or smiled,
raised my brows or frowned, every time
I screamed or felt like screaming,
every time my body convulsed with laughter,
every dream that ever darted across
my sleeping lids. I want my face
to be a panorama of experience, a book
that one might really want to read,
not some smooth slate whose past
has plainly been erased. I want this face
to seize strangers by the collar, scream
"Here is my life! I have loved
this messed-up life!"
I want my husband to look at my face
twenty years from now and see
something beautiful that he remembers.
I want him to look at my face
and see Paris.


From The Belly Remembers (Pearl Editions, 2005).
Used with permission.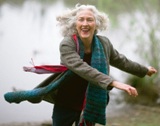 Tamara Madison is the author of the chapbook, The Belly Remembers, and two full-length volumes of poetry, Wild Domestic and Moraine, all published by Pearl Editions. She is a dog lover, a swimmer, and a native Californian who has lived in many different places in the U.S. and abroad. Tamara is thrilled to have recently retired from teaching English and French in a Los Angeles high school, and still more thrilled to have recently become a grandmother.
Jeri Thompson:
This is so you, self accepting no matter the dare I say (I've heard you comment) wrinkles, worn like badges.
Posted 12/14/2019 01:20 AM
Jancan:
I really enjoyed this lovely, bittersweet poem. Yes, some people try to fight time!
Posted 10/05/2019 09:47 AM
Wilda Morris:
Lovely poem about aging, but also about being yourself and not hiding behind a mask. Thank you!
Posted 10/04/2019 02:59 PM
CamilleBalla:
Nice poem about aging and appreciating all of life captured in what is right now. An outer map of our city wherein is the book of life.
Posted 10/04/2019 01:52 PM
Lori Levy:
Great--especially the last stanza!
Posted 10/01/2019 07:09 PM
Glen Sorestad:
Great poem, Tamara. I think you've captured what many people have wanted to say.
Posted 10/01/2019 12:04 PM
paradea:
THIS is a beautiful poem!!! I love it.
Posted 10/01/2019 10:58 AM
cork:
I see tea for two in the Gresham Hotel in Dublin, Ireland, in my wife's 80 year old face.
Posted 10/01/2019 09:27 AM
paula:
Lovely poem. Congratulations on grandma-hood. You will love it.
Posted 10/01/2019 05:59 AM