My fourth grade teacher,
Miss Mary Jane Robb,
complained to my parents;
she said I was forever
"clicking" my retainer, a
noise she found irritating.
It's hard now to imagine how
quiet the classroom must have been.


© by Juliane McAdam.
Used with the author's permission.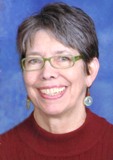 Juliane McAdam spent 25 years as an English teacher, writing poems with her middle school students in Los Angeles. She is now retired and lives near Morro Bay on California's beautiful Central Coast, where she enjoys writing poems for herself.
Jancan:
So concise, but implies a great deal! Are today's classrooms that quiet?
Posted 10/11/2019 10:25 AM
Lori Levy:
I can hear that clicking!
Posted 10/11/2019 01:10 AM
MatthewMiller:
That is a really fun poem! So much in a few words. And love that it's up to the reader to decide whether that quiet is/was a good, bad, or neutral thing.
Posted 10/10/2019 12:08 PM
barbsteff:
What an observation!
Posted 10/10/2019 12:04 PM
paradea:
Love it!!
Posted 10/10/2019 10:37 AM
KevinArnold:
Talk about understatement. Everything comes back, the power of memories and our ability to wrest unexpected meaning from them, their hidden power that hides from us until we go a level deeper. Well done.
Posted 10/10/2019 10:24 AM
njc:
These few lines speak volumes! Thank you for the reminder of those days long gone. Yes, it really was that quiet...except for the wind rattling those huge old single-pane windows three stories up.
Posted 10/10/2019 09:29 AM
Michael:
Never had braces Juliane, but never sat in a class quiet enough to hear them click! Well done.
Posted 10/10/2019 08:52 AM