I start to lose winter's weight as soon as
heavy chore boots are taken off
replaced by new Airstep Nikes.

My feet fly to the upper pasture to check
for fresh grass? grass that shimmers
more green than the Emerald City.

Overnight, the wonderful wizard has
visited the farm. Like magic, tiny buds
gleam on last week's bare branches.

I take one more look at the creek
plunging below. In a few days
new leaves will curtain this scene.

I want to buck and snort
with the horses, shed winter
like they shed their coats,

then gallop through the water
splashing? splashing? splashing

make rainbows in the springtime sun.

From Celebrating the Heartland (Jericho Productions, 2009).
Used with the author's permission.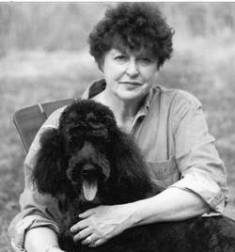 Linda Lee (Konichek) is a textbook author, entrepreneur, and former teacher who has always loved poetry, horses, and Wisconsin--not necessarily in that order. For the past twenty-five years, she has raised Morab horses (a cross between Morgans and Arabians) on a 114-acre farm in Eagle, Wisconsin; her poems tend to reflect the every day miracles that surround her there. Learn more about Linda at www.jerichocreekfarms.com.
pwax:
Yes, we're all ready to shed winter and then buck and snort. Nice, Linda.
Posted 03/24/2015 05:57 PM
erinsnana:
I love the movements in this poem! I too welcome Spring...
Posted 03/24/2015 11:26 AM
paradea:
'buck and snort'. Love it.
Posted 03/24/2015 09:55 AM
Cindy:
So pretty. We are all looking for spring here about now - snowstorm yesterday.
Posted 03/24/2015 09:19 AM
Jo:
Beautiful poem Linda. I've missed you.
Posted 03/24/2015 09:08 AM
vscholtz:
Such a beautiful picture of your county place. Thanks.
Posted 03/24/2015 08:29 AM
TheSilverOne:
Wonderful Spring poem!
Posted 03/24/2015 08:17 AM
rksanders@charter.net:
Lovely, Linda.
Posted 03/24/2015 07:35 AM
paula:
Hi Linda--its been a long time. Good to see you writing!
Posted 03/24/2015 06:27 AM
Katrina:
I want to too.
Posted 03/24/2015 03:39 AM
KevinArnold:
Ahh, Spring.
Posted 03/24/2015 01:00 AM
transitions:
Really enjoyed the vision of a re-awakening farm, horses, and all your springtime joy ~
Posted 03/19/2015 07:59 PM