She's a wild woman. Leaves in
her hair. Like she just got up from some
crazy roll in the hay. No one sorts
her closets or her kitchen drawers
and you can't find a damn thing
at her house: silver buckles hanging
from kitchen cupboards, satin shoes in
the potted plants, summer zucchinis
spoiling from the chandeliers. She's
been out in the studio throwing paint
at the trees in a frenzy of inspiration.
Look at that scarlet one all flecked
with verdigris, those ochre heads
throwing themselves around in the wind
in front of that lapis lazuli sky. She's
got deadlines and the pressure is beginning
to get to her. So many leaves, so little time.
That creep Winter is on the road
with his fancy suit and critic's eye,
getting ready to pan her work
with his icy wit and slick finality,
always has to have the last word. 


This poem first appeared in Eggpoetry.com (2015).
Used here with the author's permission.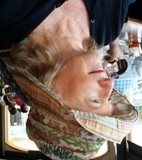 Gail Entrekin lives in the hills of San Francisco's East Bay, where she is a poet, a quilt designer and maker, a hiker (with her dog, Molly Bloom), an editor of Canary, a former teacher of creative writing and English, a singer-around-the-house, a caregiver for her husband (who is blind and has Parkinson's disease), a grandmother of six ("finally got a GIRL," she crows!), a small-time gardener, and co-publisher (with her husband) of a small press called Hip Pocket Press. Says Gail, "Most days I'm one happy woman!" Learn more about her at http://gailruddentrekin.com/.
Daisyshbirch:
I loved this Gail. Felt like the female artist was God but also be, in my most human form, facing a mounting pile of deadlines. Feel like the last lines ask the reader to question whether or not winter actually has the last word or not, alluding to the inevitable renewal and rebirth of everything in spring. Love your naming of your dog too!
Posted 10/26/2019 10:08 PM
Wilda Morris:
Wonderful images! Autumn as the wild woman, throwing colorful paints. Love it!
Posted 10/26/2019 09:07 PM
MLove:
Delightful! This one's a keeper!
Posted 10/24/2019 09:29 AM
joecot:
She's a great date, a marvelous dancer, a wild companion, but next morning just a pile of brown leaves...
Posted 10/23/2019 12:54 PM
Glen Sorestad:
A delight to read!
Posted 10/23/2019 11:18 AM
paradea:
Enjoyed this poem!!!
Posted 10/23/2019 10:31 AM
njc:
Perfect--and even more astounding to find this emerging from the hills of San Francisco and not a place where that creep Winter really IS a menace! Love it.
Posted 10/23/2019 09:31 AM
KevinArnold:
Great Fun, especially winter having the last word as the last word. Saucy.
Posted 10/23/2019 09:27 AM
Larry Schug:
This poem just keeps getting better with each reading. I like it!
Posted 10/23/2019 08:29 AM
jeeger:
Oh! I thoroughly enjoyed this! Wonderful poem!
Posted 10/23/2019 08:11 AM
plgoodman:
I enjoyed this Gail. Clever and such a plethora of wonderful images and metaphors. Thanks for a lovely start to my day!
Posted 10/23/2019 08:10 AM
Jean Colonomos-1:
LOve this. Such an original angle to "be" autumn.
Posted 10/23/2019 07:21 AM