Trick or Treaters used to dress as ghosts           
or witches, black cats, even super heroes.
This year my eight year old granddaughter
wants to be an iPhone, maybe Siri.
Her little sister won't be Wonder
Woman but an Amazon
box.

 
© by Phyllis Wax.
Used here with the author's permission.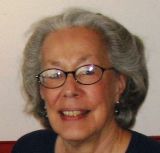 Phyllis Wax says she is "mentored in modernity" by her young grandchildren. She finds herself lingering at playgrounds, where she enjoys watching the parent/child dynamics. Phyllis writes in Milwaukee on a bluff overlooking Lake Michigan. She has read her poetry on the radio, in coffee shops, in libraries, and bars, and her work has been exhibited with art quilts and weavings in a variety of venues around the state of Wisconsin as part of four poet/fiber artist collaborations.
Wilda Morris:
I love it, Phyllis! Times change, for better or worse. I love the creativity some people invest in Halloween costumes. It may be raining (or rain mixed with snow!) here on Thursday. I may not get to see many children out trick or treating.
Posted 10/29/2019 08:42 AM
enakanishi:
I love this. It feels like it could be humorous, but also as a good comment on things like Amazon and Apple and other huge monopolies infiltrating our lives starting at such a young age. Very perceptive, I think. Lovely work.
Posted 10/27/2019 11:45 PM
barbsteff:
Great fun in this prceptive poem, Phyllis. A few years ago a young neighbor showed up one year as a stove, made out of a cardboard box. The next year she was a washing machine. Wonder what her kids will devise.
Posted 10/27/2019 04:30 PM
Maryann Hurtt:
That was fun, Phyllis, Happy Halloween!
Posted 10/27/2019 09:25 AM
paradea:
My sister's seven-year-old grandson will be an Uno card!! Great poem of the times!!
Posted 10/27/2019 09:17 AM
michael escoubas:
How true this is Phyllis--especially for all of us who feel the world is passing us by. Thank you!
Posted 10/27/2019 08:32 AM