When I awoke one morning in the spring
I found that overnight Iíd lost an hour.
She wasnít in the basement or the tower,
the nursery or den or kitchen wing.

I spent my days checking everywhere:
the garden and garage, the swimming pool.
Perhaps my kids had taken her to school.
I tracked down every street and thoroughfare.

Months went by without a single clue.
I began to think that she was lost at sea.
But then one morning, she came back to me.
For half a year my little hour had roamed.
I donít know how she found her way back home,
because when she arrived, I slept right through.


© by Bill Batcher.
Used with the author's permission.
†
†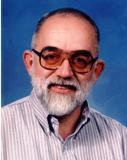 Bill Batcher is the author of four books. A retired teacher, with a Doctorate in Education from Teachers College at Columbia University in New York, his poetry has been published in magazines, anthologies, and online collections, and has won several awards. Bill and his wife, Carol, live in Greenport, New York.
Arlene Gay Levine:
Jayne, I love your introduction! Bill, I love your poem! Needed both today for the bright blessings of wit and humor.
Posted 11/03/2019 07:31 PM
delaneylenore:
Lovely! I don't know a lot about poetry, but the rhyme scheme is interesting on this one :D
Posted 11/03/2019 06:14 PM
barbsteff:
So nice to wake up this a.m. with it being much lighter than yesterday! Delightful poem.
Posted 11/03/2019 04:50 PM
cork:
I will spend this day adjusting.
Posted 11/03/2019 09:41 AM
milesss:
very fun!
Posted 11/03/2019 09:29 AM
KevinArnold:
Oh no, a perfectly rhymed-and-metered Petrarchan Sonnet right here on my favorite website! I'm verklempt. You go, Bill!
Posted 11/03/2019 08:49 AM
jeeger:
LOL! You nailed it!
Posted 11/03/2019 07:57 AM
michael escoubas:
Delight piece, Bill! Got me up and going--LOL!!
Posted 11/03/2019 07:43 AM
Larry Schug:
Ah, but is it the same hour that returned? Where does time go? Excellent poem, Bill.
Posted 11/03/2019 06:28 AM