This mountain home:
The path to and from the door
Lies unseen:
Leaves from the Autumn trees
Have buried it completely.


This poem is in the public domain.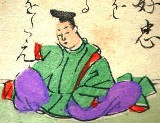 Sone No Yoshitada (approximately 930 - 1010 A.D.), who lived in Japan, was a government employee who became interested in poetry late in life. Though his work was not highly regarded at the time, it gained both popularity and respect after his death, was proclaimed as "ahead of its time," and was even anthologized in several imperial collections.
milesss:
the spacing of the lines really hits right - leaves the words open and wide like the cool mountain air
Posted 11/07/2019 01:25 PM
MLove:
So surprised to learn that Sone No Yoshitada, who I thought had passed over a thousand years ago, has recently visited my mountain home!
Posted 11/06/2019 11:52 AM
bardic:
this feels like walking down the country road to home in late november and taking a deep breath to preserve the moment i love it
Posted 11/05/2019 10:55 AM
finney@charter.net:
Such quiet beauty in the spareness of this poem. I read it holding my breath so as not to disturb.
Posted 11/05/2019 06:47 AM