Shy with the camera,
she stands in her white sailor dress
one arm behind her back.
Her dark eyes, so much like mine,
glance right.Her lips almost smile.

I wish I had known her then.
We'd have been friends,
going to pound suppers, singing
alto in the church choir.
She was loved as I was loved,
sheltered by Mama, strengthened
by her Papa's expectations.

How could she have imagined ageing?
Certainly not at fourteen
and looking so lovely.
She never thought she'd grow old,
lose her memory, and depend on me,
her daughter, to care for her.
From Now Might As Well Be Then (Finishing Line Press, 2009)
Used with the author's permission.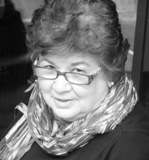 Glenda Beall was raised on a farm in Albany, Georgia, and taught school for many years before relocating to western North Carolina. Widely published in journals, anthologies, newspapers, and magazines, she now teaches writing classes for adults and served for several years as Program Coordinator for the western branch of the North Carolina Writers Network. To learn more about Glenda, visit http://glendacouncilbeall.blogspot.com.
transitions:
Lovely tribute poem, describing a challenging journey...bless ~
Posted 03/27/2015 10:58 AM
paradea:
Beautiful!
Posted 03/26/2015 08:16 AM
KevinArnold:
Oh, this memory loss problem seems never-ending. Fine poem.
Posted 03/25/2015 11:52 PM
TheSilverOne:
Been through it...understand this perfectly. What a lovely way to view ones mother.
Posted 03/25/2015 11:16 PM