What do birches teach us,
their yellow leaves long ago
having tumbled to the ground,
exposing limbs to whatever raw
& consequential wind
may come? Trunks stippled
with dark eyes. Branches now
boasting only the robust breasts
of crows. I will not mention roots.
This is not about them,
those long siphons stretching
toward waterís deep horizon.
Look closer. See the lenticels
scattered across the white bark.
They look like scars, as if a cold
blade striated the surface. But no,
they are not slits in the treesí bloodless
throats. (There is no violence here.)
They are pores oxygen slides through
as simply & surely as sunlight
slips through a spiderís silk net.
Lean in. Listen to the soft
cellular breath tell you what it can.


From Full Worm Moon (Cascade Books, 2018).
This poem first appeared in Freshwater.
Used here with the authorís permission.
†
†
†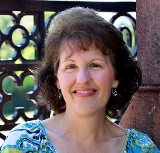 Julie L. Moore believes that writing poetry is as vital as seeking justice, embracing beauty, and emulating goodness. Author of four poetry collections, Julieís work has appeared in many literary publications and anthologies; her most recent book is Full Worm Moon, published in The Poiema Poetry Series by Cascade Books in 2018. Julie lives in Indiana, where she is an Associate Professor English and the Writing Center director at Taylor University. Learn more about her at www.julielmoore.com.
peepus:
I want to take a walk through the woods now. This is such a pretty poem!!
Posted 11/09/2019 06:58 PM
milesss:
absolutely breathtaking. reminds me of the small birch grove at the other end of the village... a magical place i wish i had visited more often
Posted 11/09/2019 03:56 PM
Glen Sorestad:
I loved it, Julie. One of the finest "tree poems" I've read.
Posted 11/09/2019 10:34 AM
cork:
I will look more closely at our aspens.
Posted 11/09/2019 09:45 AM
KevinArnold:
A poem about the unsaid. I liked "I will not mention roots. / This is not about them,".
Posted 11/09/2019 09:34 AM
jeeger:
Just beautiful!
Posted 11/09/2019 09:06 AM
Andromache:
I really love this poem! It's so beautiful!
Posted 11/09/2019 07:06 AM
pyritebutch:
Reminds me of days spent wandering through the forest amongst the trees. Very beautiful.
Posted 11/09/2019 01:33 AM
coalqueen:
Wonderful poem. Trees make me feel alive.
Posted 11/09/2019 01:02 AM