Fresquiennes, a brick and limestone castle outside Rouen in Normandy, is on the market for $2.7 million (2 million euros).
                                                                                                                         --"House Hunting in France," NYTimes.com

If I were mistress of Fresquiennes,
rather than my apartment above Third Avenue,
I might buy, or borrow, a horse.

I would learn to ride,
so that I might gallop up the earthen drive
to my castle.

I would marvel at my very own
marble staircase
before entering the library

with its floor-to-ceiling shelves and cabinets
and long rectangular windows that look upon
just some of the 92 acres.

The library, where sunlight streams into the room,
beaming the spirit of Flaubert
upon the oak herringbone parquet.

I would uncork a bottle brought up from
"one of the wine cellars" in the basement
and lift a glass.

Oh, Fresquiennes! To you! To me!
To Flaubert! L'chaim!


From Birthright (Kelsay Books, 2019). An earlier version of this poem appeared in The Sunlight Press.
Used here with permission.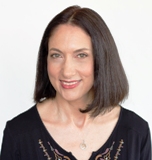 Photo by Jody Christopherson
A lifelong Francophile, Erika Dreifus lives in New York and maintains an online home at ErikaDreifus.com. She is the author of a newly released poetry collection, Birthright, and a collection of short stories, Quiet Americans: Since 2004, Erika has produced The Practicing Writer, a free (and widely read!) e-newsletter for poets and writers of fiction and creative nonfiction.
Tracers645:
Love it!
Posted 11/08/2019 01:01 PM
michael escoubas:
Your poem is the only pathway to a French castle for me, Erika. Shows that poetry can take us anywhere! Thank you.
Posted 11/08/2019 09:30 AM
cork:
L'chaim I will add to my list of toasting words. Thank you.
Posted 11/08/2019 09:13 AM
BAMars:
Fun and I love vicarious travel (and castle ownership!)
Posted 11/08/2019 08:46 AM
Jean Colonomos-1:
I too am a Francophile, am lucky to have family there. I too have imagined moving to France.
Posted 11/08/2019 08:37 AM