Refuse to hear the stampeding silence,
the rush of hooves inside your head

an advancing cavalry in your ear,
buffaloes rumbling across the flat ground

of the elastic prairie of your timpani.
It will pass. You will survive the horns

and fade into obscurity once more.
You will sit down, the words you stammered

like a bad hammer will not be recorded.
The beasts will go about their grazing.

Your classmates' lives will fast forward
even though your life has stopped.


© by Jeff Burt.
Used with the author's permission.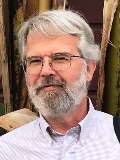 Jeff Burt lives with his wife amid redwoods and coastal fog in Central California. He lives without sidewalks on a two-lane road wide enough for one car, so sees courtesy expressed daily. He comes from a lineage of wordsmiths, a weekly newspaper publisher, a string reporter, a journalist and editor, and two pastors.
milesss:
stampeding in your ears - perfect
Posted 11/07/2019 01:23 PM
paradea:
Years and years and years past the fourth grade, this poem resonates with me. Love it!!
Posted 11/07/2019 10:30 AM
njc:
Every word, every line--perfect!
Posted 11/07/2019 10:02 AM