One never knows
How far a word of kindness goes;
One never sees
How far a smile of friendship flees.
Down, through the years,
The deed forgotten reappears.

One kindly word
The souls of many here has stirred.
Man goes his way
And tells with every passing day,
Until life's end:
"Once unto me he played the friend."

We cannot say
What lips are praising us to-day.
We cannot tell
Whose prayers ask God to guard us well.
But kindness lives
Beyond the memory of him who gives.


This poem is in the public domain.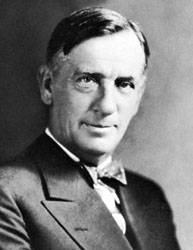 Edgar Guest (1881 - 1959) was born in England, but moved with his family to Detroit, Michigan, when he was ten years old. He worked for more than sixty years at the Detroit Free Press, publishing his first poem at the age of seventeen, then going on to become a reporter and columnist whose work was featured in hundreds of newspapers around the country. Edgar is said to have written some 11,000 poems during his lifetime, most of it sentimental, short, upbeat verse. Critics often derided his work, but America adored him. He was known as the "People's Poet," served as Michigan's poet laureate, hosted a long-running radio show and TV show, and published more than twenty books.
Wilda Morris:
How true!
Posted 11/13/2019 05:41 PM
cork:
I grew up reading Edgar Guest in Detroit, and he was the major influence on my own poetry.
Posted 11/13/2019 03:57 PM
Tracers645:
Wonderful to remember.
Posted 11/13/2019 02:17 PM
CamilleBalla:
Yes, kindness lives--and it's up to us to keep it alive! I like the thought in this poem that I could be in someone's prayers today.
Posted 11/13/2019 12:43 PM
Glen Sorestad:
A most thoughtful poem to start off the day. Thanks, Jayne.
Posted 11/13/2019 10:17 AM
DavidTookey:
Wonderful-and true.
Posted 11/13/2019 08:48 AM
KevinArnold:
Guest seems to have one foot in the nineteenth century with its respect for meter and rhyme but another in the twentieth, with our passion for making poetry real and relevant.
Posted 11/13/2019 07:16 AM
Larry Schug:
Gotta love the thought that someone may be praying for me. I'd not considered that before, but it may explain some things in my life.
Posted 11/13/2019 06:55 AM