Outside, pelting rain, fierce wind. Nightfall.
In the hotel restaurant, quiet.
Soft light of candles, batik tablecloths patterned in deep brown, red, black.
Sop ikan kelapa asem, fish in fragrant broth.*

Lemongrass, coconut milk, tamarind.
Condiments in oiled terracotta bowls.
Pickled vegetables finely cut, hot red sauce bumpy with chili seeds,
sweet brown ketcup manis. Sambal.**

Golden koi swirl gently round the fountain in their pool.
A book to read.
Solitude.
I give thanks.


© by Susan Wismer.
Used with the authorís permission.


*Sop ikan asem is a fish soup made with spices.
**Ketcup manis is a sweet brown ketchup-like sauce; sambal is a spicy condiment.
†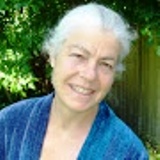 Susan Wismer likes to go for long walks, write poetry, then walk some more. Within her family, which is broadly defined, she says she is famous for eclectic (and occasionally unpalatable) vegetarian cookery and her sense of humor, passed down from her mother.† Susan lives on Anishinaabe territory at Georgian Bay, in Ontario.
†
†
labyrinth:
Beautiful poem, Susan!
Posted 11/28/2019 01:02 PM
barbsteff:
hot red sauce bumpy with chili seeds - Great image. I can taste it!
Posted 11/28/2019 12:59 PM
Glen Sorestad:
A lovely poem, Susan!
Posted 11/28/2019 10:50 AM
cork:
There was no need of turkey, cranberry sauce, or pumpkin pie.
Posted 11/28/2019 09:10 AM
michael escoubas:
May I please come along next time, Susan? Everything sounds delicious!!
Posted 11/28/2019 08:35 AM