Suppose you find yourself in the middle of a flood.
Someone remarks, But water is good for the plants,

sounding exactly  like your mother's cousin, Irma.
That very instant —some fifteen years dead—

she's back on board. Even those we barely knew
gate-crash, reappear in a gesture, their ability

to memorize telephone numbers, an allergy to cats.
They inhabit our rooms and their traits become ours

to discover in a stutter, a wink, a double-jointed finger,
the curvature of a spine. When my left hand thrums

the table like a keyboard, we think of Uncle Abner. He drove
us crazy. Today, my dear, I look for you in our son—

in his gait, how he favors his right leg, folds the newspaper
in three. I study my daughter when she runs her hands

through her hair exactly as you did, throws back her head,
and cackles at her own jokes.


From Walking Backward (Kelsay Books, 2019).
Used with permission.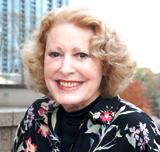 A former resident of Mexico City, Diana Anhalt moved to Atlanta, Georgia several years ago in order to be closer to family. A former high school teacher, editor, and civic leader, she is the author of A Gathering of Fugitives: American Political Expatriates in Mexico 1947-1965 (Archer Books), five chapbooks, and numerous essays, short stories, and book reviews in both English and Spanish. Her most recent collection is Walking Backward, recently released from Kelsay Books.
Janet Leahy:
A new generation seems somehow familiar in special ways. Thanks Diana.
Posted 11/30/2019 08:16 PM
Jo:
Thank you for this wonderful poem. It's comforting how naturally the dead still live.
Posted 11/30/2019 03:06 PM
joecot:
We all carry Aunt Irma, Uncle Abner. Yes.
Posted 11/30/2019 02:18 PM
BAMars:
Wonderful poem.
Posted 11/30/2019 12:03 PM
peninsulapoet:
Love this.
Posted 11/30/2019 11:17 AM
michael escoubas:
So much truth in this Diana! Thank you.
Posted 11/30/2019 08:55 AM
Dawnd:
Enjoyed this poem. It is so true. Thank you for offering it!
Posted 11/30/2019 08:54 AM
paradea:
Absolutely!!! Love this poem!!
Posted 11/30/2019 08:33 AM