When the reports come in
that one school after another
is closing, the parents return
and everyone settles back. 
"Let's just see how long this
will last," they say. "Let's see
how deep it will get."

The body wants to go back
to sleep listening to the sound
of the wind—or it wants to
bake cookies. After a long nap,
the body checks the freezer
for frozen pizza. Score!

The spirit needs to
slap itself out of its stupor,
pull itself, wide-eyed,
away from the car spun into
the ditch, and start walking back
into town for help.


© by Joyce Sutphen.
Used with the author's permission.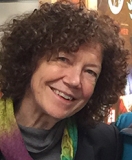 Joyce Sutphen is the author of multiple award-winning books of poetry and was co-editor of To Sing Along the Way, an anthology of Minnesota women poets. A professor emerita of literature and creative writing at Gustavus Adolphus College in St. Peter, Minnesota, she has garnered numerous fellowships and residencies in the course of her poetry career. In 2011, she was named Minnesota's Poet Laureate. The oldest of nine children, Joyce grew up on a farm near St. Joseph and currently lives in Chaska. She loves both prairie and city and says "a perfect afternoon for me would be a long walk around the big marsh behind my house, or a ramble through Holland Park in London." A fan of Shakespeare, Joyce often uses her commute time to memorize poems by favorite poets. Learn more about her at www.joycesutphen.com.

barbsteff:
Let's hear it for Minnesota! Spot on observations of blizzard day.
Posted 12/05/2019 12:03 PM
Larry Schug:
The last verse is a wonderful poem of it own.
Posted 12/05/2019 08:06 AM