I miss the rumpled corners of correspondence,
the ink blots and crossouts that show
someone lives on the other end, a person
whose hands make errors, leave traces.
I miss fine stationary, its raised elegant
lettering prominent on creamy shades of ivory
or pearl grey. I even miss hasty notes
dashed off on notebook paper, edges
ragged as their scribbled messages—
can't much write now—thinking of you.
When letters come now, they are formatted
by some distant computer, addressed
to Occupant or To the family living at—
meager greetings at best,
salutations made by committee.
Among the glossy catalogs
and one time only offers
the bills and invoices,
letters arrive so rarely now that I drop
all other mail to the floor when
an envelope arrives and the handwriting
is actual handwriting, the return address
somewhere I can locate on any map.
So seldom is it that letters come
That I stop everything else
to identify the scrawl that has come this far—
the twist and the whirl of the letters,
the loops of the numerals. I open
those envelopes first, forgetting
the claim of any other mail,
hoping for news I could not read
in any other way but this.


From My Father's Kites (Steel Toe Books, 2010).
Used here with permission.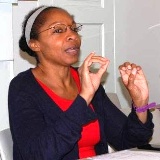 Allison Joseph lives in Carbondale, Illinois, where she is Professor of English and Director of the MFA Program in Creative Writing at Southern Illinois University, and serves as poetry editor of Crab Orchard Review. Her most recent full-length collection, Confessions of a Barefaced Woman (Red Hen Press) was the Gold/First Place winner of the 2019 Feathered Quill Award in Poetry and has been nominated for the 2019 NAACP Image Award in Poetry. Learn more about Allison at www.allisonjosephpoetry.com.
Jo:
We never phoned as it was too expensive so Grandma and I wrote letters. Mom and Dad wrote letters. Now it seems like an ordeal when I have to write a letter, but each Christmas I do just that. Thank you for this beautiful poem.
Posted 12/07/2019 09:13 PM
Leona:
I send letters across the country to my best friend when I can. Sometimes I don't have very interesting things to say but I write anyways!
Posted 12/07/2019 01:10 PM
3CatsintheHouse:
Handwritten letters are such an overlooked treasure.
Posted 12/07/2019 12:16 PM
Jean Colonomos-1:
I'm with you. When I write a thank you note, I notice my hand isn't used to writing anymore. Sometimes I have to throw out the first attempt.
Posted 12/07/2019 11:30 AM
KevinArnold:
I just live the poet's respect for the line, gems such as "salutations made by committee."
Posted 12/07/2019 11:22 AM
cork:
I remember when I used to get letters.
Posted 12/07/2019 09:14 AM
Larry Schug:
I've received three actual letters this year. What a joy to hold them in my hands and read them. What a joy to write back!
Posted 12/07/2019 08:00 AM