Too long have I not sung the praises
of our hardwood trees,
felled, cut, stacked, dried, and hauled
to the house and woodshed,
then split and brought inside all winter long
to put inside our woodstove,
to burn, to keep us warm. This wood
that grows less than half a mile
from our house, these trees
that grow faster than I
can cut them down,
always making more
than we can use.

Oh, finally I sing the praises of wood.
Homegrown and handy, abundant,
convenient, cheap, the growth of these hills
right here at home.

Finally now, I sing the praises
of our hardwood trees.


From Happy Life (Copper Canyon Press, 2011).
Used by permission of the publisher.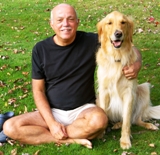 Photo by Lois Eby

David Budbill (1940 - 2016) was born in Cleveland, Ohio to a streetcar driver and a minister's daughter. He is the author of seven books of poems, eight plays, a novel, a collection of short stories, a picture book for children, dozens of essays, and the libretto for an opera. A one-time commentator on National Public Radio's All Things Considered, David received numerous awards in the course of his career. Learn more about him at www.davidbudbill.com.