Christmas is 83° and light shows
turning stucco bungalows rainbow colors,
winking Santa hugging a fake chimney.
 
Christmas is dwarf palmettos draped
with twinkling lights, bougainvillea
and red hibiscus stuck with plastic holly.
 
Christmas is terrazzo patios
with aluminum trees, grass littered
with inflatable elves, pipe-smoking
 
snowmen and cherry-nosed reindeer.
Cardboard cutouts of snow-laden firs
with Mickey Mouse in a Santa outfit.
 
Christmas is singing
Jingle Bells in flip-flops and bikinis,
until some guy with a refrigerated
 
truck dumped piles of the white stuff
in the Winn-Dixie parking lot and
charged $3 to jump around in it.
 
Cousin Pam got all excited because
she'd never seen snow before,
but it melted pretty fast, so we snuck
into the pool at the Deauville Hotel.



© by Nancy Scott.
Used with the author's permission.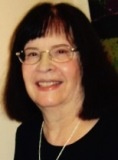 After working for decades as a social worker, Nancy Scott is now an author and an artist. She started writing poetry in the mid-'90s, hoping that her work would eventually be published somewhere; her latest work, Marriage by Fire, is a novella released last January. A chance conversation about a workshop got Nancy interested in collages; her work is now frequently hung in juried shows and, sometimes, her poetry and art are featured together. Learn more about Nancy at www.nancyscott.net.
Jancan:
This is a well-written, vividly descriptive piece!
Posted 12/24/2019 10:38 AM
mail@schoolbusmart.com:
As a long standing Miami Beach, North Miami Beach, and Davie resident, I revelled in the South Florida imagery. Thank you. Nice work. Randy
Posted 12/23/2019 09:39 PM
peggy.turnbull:
Nothing like a glitzy, sunny Christmas with a pool to make Christmas dreams come true!
Posted 12/23/2019 09:35 AM
michael escoubas:
Christmas is where we find it!! Right Nancy? You have written an excellent poem--thank you.
Posted 12/23/2019 08:48 AM
KevinArnold:
Great holiday fun.
Posted 12/23/2019 07:44 AM