If the ghost of my Christmas past
paid me a visit
what would I see?
I'd see ribbon candy and mixed nuts
in a living room buzzing with relatives.
I'd smell rib roast and potatoes
beneath a haze of cigarette smoke.
I'd taste pumpkin pie with cool whip
and egg nog from a delicate glass.
I'd hear shouts of
"Thank you, Mom!"
"It's perfect!"
"Save the bows!"
And I'd feel like I was enveloped in love,
safe and warm
like I never wanted the night to end

If the ghost of Christmas present
paid me a visit
what would I see?
I'd see my two twenty-something kids
in their pajamas on Christmas morning
I'd smell coffee and ebelskivers
and the scent of evergreen.
I'd taste the marshmallow and fruit
of our chocolate fondue tradition.
I'd hear carols seeping from the stereo
Bing, and Perry, and Nat King Cole.
And I'd still feel enveloped in love,
grateful and fortunate
like my heart was given a great gift.

If the ghost of Christmas future
paid me a visit
what would I see?
I'd see that family always comes first
I'd breathe in the redemption in Christ's birth
I'd taste the sweetness of a life well lived
I'd hear the call to be present and love big
and I'd feel like I'd lived a beautiful dream.


© by Jim Landwehr.
Used with the author's permission.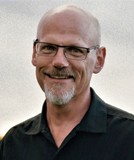 Jim Landwehr is a twenty-first century cartographer and Renaissance man. In between his day job (which keeps the lights on and the creditors at bay), he walks his dog, takes an occasional bike ride, and scribbles out books and poetry. Next to his wife and his two above average children, Jim's seven books are his biggest pride and joys. He's working towards a Pulitzer but, at the moment, would settle for a few good Amazon reviews and a bit of beer money. Learn more about Jim at http://jimlandwehr.com.
Linda Lee Konichek:
I love this and identify with all of it, including the spirit!
Posted 12/29/2019 11:54 AM
barbsteff:
save the bows! Yes. I still want to do that, but few of the younger set even put bows on presents anymore! Good one Jim.
Posted 12/28/2019 02:49 PM
carlpalmer:
...as Mom carefully opens hers and refolds the wrapping paper for next year. Thanks Jim, Merry Christmas
Posted 12/27/2019 02:45 PM
SaraS:
Lovely, Jim!
Posted 12/26/2019 07:10 AM
Lori Levy:
Tender poem!
Posted 12/25/2019 11:31 PM
Cathy's Sister:
Love this!
Posted 12/25/2019 12:11 PM
michael escoubas:
Jim: you're hitting on all cylinders with this poem! PS: I still have some of those "saved bows." Very nice work; good poetry should be as if two people are talking gently, easily over tea or coffee. So real!
Posted 12/25/2019 08:27 AM