Do not stand
By my grave, and weep,
I am not there,
I do not sleep--

I am the thousand winds that blow,
I am the diamond glints in snow.
I am the sunlight on ripened grain,
I am the gentle, autumn rain.
As you awake with morning's hush,
I am the swift, up-flinging rush
Of quiet birds in circling flight.
I am the day transcending night.

Do not stand
By my grave, and cry--
I am not there,
I did not die.


This poem is in the public domain.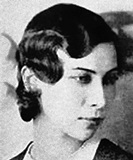 Clare Harner (1909 - 1977) was born in Green, Kansas. Demonstrating a talent for piano and poetry from an early age, she was also a gifted seamstress and an excellent student. At Kansas State University, she studied industrial journalism and clothing design and briefly owned a clothing store in Aggieville, Kansas before moving to Topeka. There, she worked as a social worker and secretary before moving first to Denver, then to San Francisco, where she joined the staff of Fairchild Publications. During all this time, she actively wrote and published poetry. This poem first appeared in the December 1934 issue of The Gypsy magazine and was reprinted in their February 1935 issue.
This beautiful poem is probably one of the world's best known and best loved but, over the years, numerous variations of it have been attributed to Mary Elizabeth Clark Frye, a Baltimore housewife; Stephen Cummins, a British soldier; J.T. Wiggins, an Englishman who migrated to America; and Marianne Reinhardt (no details found). It's also been alleged as a Navajo burial prayer. Extensive research on our part, along with corroborating evidence from several readers, has led us to conclude that the poem was indeed written by Clare Harner. There is still some question about the exact original wording, though, so our research will continue!
Fnizam6954:
F Nizam.: Just beautiful! Peace and remembrance for the loved left behind.
Posted 05/29/2022 08:56 PM
jmilnthorp:
Here is the most amazing musical setting by composer Howard Goodall. https://www.youtube.com/watch?v=8iv4r8k-GxU&list=PLj6vtEldaWiR1k9jw6o5envIz9qz-Q_lz&index=5
Posted 04/27/2022 10:53 AM
Ndufresne:
I love this poem. Rest In Peace Guy Worth. -Nate Dufresne
Posted 04/26/2022 01:01 PM
Sergeal:
Te amo mam. Yo se que estas conmigo.
Posted 04/18/2022 11:58 PM
therd3:
My mother is on hospice and I was cleaning out her non useful purse and found this poem and it brought tears to my eyes. Knowing that my mother is going to pass soon we will recite this when she does pass. George her caring Son. Such a Great Loving person!
Posted 03/05/2022 11:48 AM
Woofbrandy:
As CYNTSLESS points out,this is read by a main character in After Life on Netflix. It's the finale of the excellent show and brings closure to Tony's grief over his wife's death. Very touching.
Posted 02/17/2022 02:38 AM
rmstitanicof1912:
I lost my grandmother back in 2019. I just came across this poem today. While reading this, my mind instantly went to my grandmother. This is the kind of things she said. I am SO glad I found this poem
Posted 02/11/2022 09:00 PM
thejojo:
i have been in love with this poem since my teenage years. since my husband passed, i have realized that this is so true, we never leave this earth
Posted 01/20/2022 08:54 PM
CYNTSLESS:
This poem was featured in an episode of the NETFLIX series AFTER LIFE. I immediately loved its sentiment.
Posted 01/19/2022 12:33 PM
Asis Kumar Dasgupta :
It touches heart...nothing remains to be said anymore!!!!.....
Posted 08/06/2021 05:58 AM
fireflyy123:
Simply an incredible and uplifting poem that brings healing.
Posted 04/11/2021 02:41 PM
jreele:
Several months before my Mom's passing I found this poem in CA while on a school bus trip to a mission, It was incased into a very nice wooden frame and I bought it. It's been with me ever since and I hold it dearly as it means a lot to me when she passed in 2000. I never knew until recently who wrote it. Thank you
Posted 03/22/2021 06:18 PM
Bill Sr:
My wife of 67 years died on Mothers day of 2020, her name was Mary Kathleen.This poem has brought healing ...Thank Mary and God for this message Bill Preston Gresham, Oregon
Posted 03/04/2021 04:46 PM
transitions:
Beautiful...just simply beautiful.
Posted 04/01/2015 05:07 PM
KevinArnold:
Thanks for finding this and doing due diligence on the ownership.
Posted 03/31/2015 01:00 AM