sounds like the
rushing
of a stream.
Dried leaves
swimming
in the trees,
like a flock of birds,
descending
to their death
giving
their children life.


Š by Phebe Davidson and Robert Manchester.
Used with the authors' permission.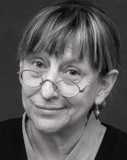 Phebe Davidson is a recovering academic, the author of twenty-some published collections of poems, a contributing editor at Tar River Poetry and a staff writer for The Asheville Poetry Review. Her latest book is What Holds Him to this World (Ninety-Six Press, 2014), which  was awarded the 2013 South Carolina Poetry Archives Book Prize. A native of New Jersey, she now lives in Greenville, SC.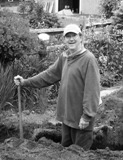 Robert Manchester lives in New Hampshire, surrounded by leafy trees, stone walls, and memories of Robert Frost, Donald Hall, and Maxine Kumin, among others. He's been writing and publishing poems for 50+ years, but quite prefers writing to submitting. Even so, his work manages to appear in print occasionally and he belongs to the John Hay Poetry Group in Newbury, New Hampshire.
paradea:
I like this poem!
Posted 01/04/2020 04:06 PM
KevinArnold:
My goodness a jointly authored poem, the first I?ve ever seen published. Fun!
Posted 01/04/2020 09:50 AM
cork:
This dried leaf will swim this morning with the other dried leaves.
Posted 01/04/2020 09:16 AM
Gilbert Allen:
I enjoyed the blending of sounds and sights in this poem.
Posted 01/04/2020 08:50 AM
michael escoubas:
Love the brevity of this poem coupled with the powerful "experience" rendered by it. Thank you Phoebe and Robert.!
Posted 01/04/2020 08:26 AM
Larry Schug:
From death springs life. It seems it would be arrogant to think that it is any different with the animal that thinks. A very thought-provoking poem. Nice collaboration.
Posted 01/04/2020 08:15 AM
jerithompson:
Heartbreaking and beautiful!
Posted 01/04/2020 08:13 AM
penhart:
Hi Phoebe, what a lovely poem! Congrats to both of you. I particularly like "Dried leaves / swimming /in the trees..." Reminds me of night sounds in a campsite on Cape Cod. And that haunting twist at the end: "like a flock of birds / descending / to their deaths". The line breaks work very well, too. Nice to be in touch with you again this way.
Posted 01/04/2020 08:11 AM