Patiently waiting in silence
the small white disc
hides in plain sight
sensing from the ceiling
for something that I trust
it hopes it will never find
 
Like a cactus I never know
if it remains dead or alive
hanging dutifully there
suspended in animation
content I suspect to be ignored
my silent sentinel
 
Silent at least until
this morning at four a.m.
when it began to beep
occasionally but insistently
like a puppy wanting
to be let out
 
Its calls were spaced
just far enough apart
that I could almost
fall back to sleep
before it cried again
demanding my attention
 
One should never climb a ladder
in the dim hours of the dawn
but this shrill and persistent cry
was enough to wake the dead
which – if you think about it –
does seem a bit of overkill
 
The fragile balance of the universe
is such that batteries announce
their imminent demise
only during a night's watch
when it is wintery and
one's house shoes are missing
 
All this says something profound
about the moral indifference
of reality if not its impish devilment
but for now it is still night and cold
and perhaps I could just get
one more minute of sleep
© by Randy Cadenhead.
Used with the author's permission.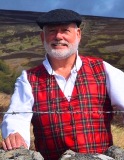 Randy Cadenhead is the author of four books, the most recent being The Funny Thing About a Poem. Although he teaches at Emory Law School, you are more likely to find him sailing somewhere in search of the perfect sunset. Randy lives in Decatur, Georgia; learn more about him at www.randycadenhead.com.
BAMars:
Very fun, and timely! Just went through the ladder routine ourselves.
Posted 01/07/2020 11:03 AM
Lori Levy:
Great poem. Funny!
Posted 01/06/2020 06:59 PM
marcia-p@juno.com:
So true!
Posted 01/06/2020 03:25 PM
Jancan:
Entertaining mix of literal and figurative language!
Posted 01/06/2020 11:24 AM
Gilbert Allen:
Thou still unravish'd bride of Duracells! Funny and true.
Posted 01/06/2020 09:16 AM
cork:
We just purchased a new alarm after forty years and it is wired into our electrical system.
Posted 01/06/2020 09:14 AM
paradea:
Yes. Spot on poem about smoke alarms!! And I think I have become a better cook (not setting the smoke alarm off), until I realize that I didn't close the battery compartment from the last time that I burned food on my stove.
Posted 01/06/2020 08:27 AM
michael escoubas:
I take it that you've been to my house, Randy? Nicely done.
Posted 01/06/2020 08:06 AM
Larry Schug:
And so it goes.
Posted 01/06/2020 07:54 AM