Ambling about in mid-morn's quiet
on a small gravel drive carved out
between two rows of loblolly pine,
my meandering reverie is broken by
a flash of feather—
white, black, capped with crimson.
He darts by closely—my cheek's
warmed by his wing in passing.
Ruffled now, roused from reverie,
my eye follows his flight to a
refuge high in clustered pine needles.
Only his red feathers show now.
Tat, tat, tat—he's at work
finding lunch in the bark,
I return to my well-worn path,
refreshed, invigorated by the flash of
beauty that crossed my path this morning,
grateful for the break in routine,
for a  moment of being ruffled, a
close connection with an other.


This poem first appeared on Writing in a Woman's Voice.
Used here with permission.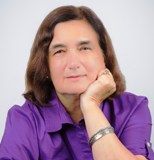 Joan Leotta lives sin Calabash, North Carolina. A writer and story performer, her poetry, essays, articles, and short stories are widely published and she is the author of ten books. On stage, Joan tells stories of food, family, and strong women. Learn more about her at www.joanleotta.wordpress.com.
Joan:
Thank you! I am not sure which species of woodpecker it was
Posted 01/08/2020 03:19 PM
Jean Colonomos-1:
I'm with you in finding pleasure in the simplest of things. Thanks.
Posted 01/08/2020 11:03 AM
cork:
I want to know the species and will ask my family for help.
Posted 01/08/2020 09:14 AM
Chwood:
The imagery is absolutely beautiful Joan, thank you so much for sharing your work :)!
Posted 01/08/2020 08:44 AM