My daughter laughed
and said
she could only hear
her boots
but couldn't you hear
it too?
The prairie swelling,
the dark and trembling crescendo in
the thawing earth
as the bilateral state
begins to unfurl
towards
away
and I begin
to remember
the shock value
of
green

© by Katrin Talbot.
Used with the author's permission.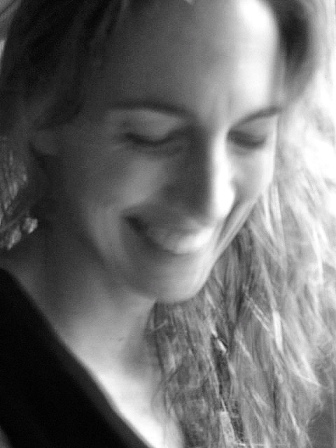 Australian-born Katrin Talbot is a violist, photographer, and poet, whose collection noun'd, verb was recently released from dancing girl press. Katrin's first collection of photos and poems, In Which Miss Mabelline Is Introduced to the Honorable Dr. Suzuki, was commissioned by the Suzuki Strings of Madison; she has two other chapbooks, including Freeze-Dried Love from Finishing Line Press, and St. Cecilia's Daze, published by Parallel Press. A photo essay of Schubert's Winterreise was published as a coffee table book and cd by the University of Wisconsin Press. Meanwhile, a song cycle based on her poetry will be premiered in Toronto later this year. Katrin was Poet-in-Residence for Sound Ensemble Wisconsin last season, was a finalist in 2009 for four national poetry prizes—one of which awarded enough prize money to fund a dairy queen run—and she has two Pushcart prize nominations sewn into her bomber jacket.
Shoshauna Shy:
I want to see that bomber jacket, Katrin!
Posted 04/02/2015 08:52 PM
transitions:
Loved the 'shock value of green'~ so original, so true! Sweet poem.
Posted 04/02/2015 12:20 PM
jeanie:
i love this poem, katrin.
Posted 04/02/2015 09:21 AM
mimi:
so tender and so brief, that green...love this...
Posted 04/02/2015 07:40 AM
KevinArnold:
Very fun. the end of winter and beginning of green.
Posted 04/01/2015 11:35 PM