I love the snow crashing
into my window.

The way it falls, frenzied and unpredictable,
slick shine cast on the road.

The street lamp flickers.
A quieted hum, the dark morning lasts.

So whistle, winter wind. Bring
chaos, form impassable drifts.

I will fall asleep
with the hiss of the furnace, blowing its warm breath
across the back of my neck.

Tucked in, safe away from
the complications of the cold.


© by Matthew Miller.
Used with the author's permission.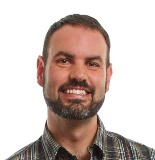 Matthew Miller teaches social studies, swings tennis rackets, and writes poetry - all hoping to create a home. He pretends his classroom is a living room, filling it with as many garage-sale chairs as he can afford. Matthew lives beside a dilapidating apple orchard in Goshen, Indiana and tries to shape the dead trees into playhouses for his four boys. He vacillates between wanting to poison and wanting to feed the groundhogs, rabbits, and cardinals that try to make their homes in his garden; for now, they've all chosen peace. Learn more about Matthew here.
paradea:
Good one!!
Posted 01/29/2020 12:13 PM
toni:
This was a joy to read.
Posted 01/26/2020 08:33 AM
Lori Levy:
The "warm breath" of the furnace sounds very appealing with the snow outside.
Posted 01/20/2020 12:52 AM
Glen Sorestad:
Living in Saskatoon and considering this winter, I know the feeling quite well and you've really conveyed it very well in this fine poem.
Posted 01/19/2020 11:21 AM
Cathy's Sister:
Great poem!
Posted 01/19/2020 09:39 AM