I stood beside a hill
Smooth with new-laid snow,
A single star looked out
From the cold evening glow.

There was no other creature
That saw what I could see—
I stood and watched the evening star
As long as it watched me.


This poem is in the public domain.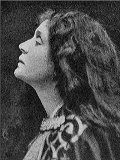 Sara Teasdale (1884 - 1933) was a Missouri-born poet afflicted with poor health from birth. She loved one man but married another, divorced, lost her best friend to suicide, and eventually committed suicide herself. Ironically, a majority of her poems are about love and beauty, and she won the first Pulitzer Prize for poetry in 1918. There are some similarities to be drawn between Sara and Emily Dickinson; both were reclusive, both wrote intensely personal poetry that frequently focused on nature, both knew unrequited love.
Tracers645:
So peaceful.I love this poem.
Posted 02/18/2020 12:58 PM
Arlene Gay Levine:
"I stood and watched the evening star As long as it watched me." Oh, yes! Economy of words and brilliant as the stars she watched...Thanks, Jayne!
Posted 02/18/2020 11:05 AM
paradea:
Simple is so much better. I love this poem!!
Posted 02/18/2020 09:24 AM
mail@schoolbusmart.com:
Simple, simply wondrous, solitary, and sadly personal. All iin eight short lines. Randy
Posted 02/18/2020 08:48 AM
Larry Schug:
Without background interference from street lights, neon signs, traffic noise, blinking airplane lights, the neighbor's tv.
Posted 02/18/2020 07:38 AM
r1manchester:
Perfect.Did Sara T. ever write a bad poem?
Posted 02/18/2020 07:13 AM