Zig-zag, criss-crossing
footprints in old snow.

In scattered splotches
and in rings around the trees                              
last season's dormant grass                      
is eating its way to the surface.                

Silhouetted high in bare branches
a lone blackbird flits             
twig to twig,
lifts and lowers, lifts
and lowers its long tail.

The swings hang                    
dead in their frames 
waiting for spring breezes
and children
to bring them to life.


© by Phyllis Wax.
Used here with the author's permission.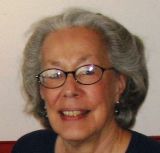 Phyllis Wax says she is "mentored in modernity" by her young grandchildren. She finds herself lingering at playgrounds, where she enjoys watching the parent/child dynamics. Phyllis writes in Milwaukee on a bluff overlooking Lake Michigan. She has read her poetry on the radio, in coffee shops, in libraries and bars, and her work has been exhibited with art quilts and weavings in a variety of venues around the state of Wisconsin as part of four poet/fiber artist collaborations.
Wilda Morris:
Yes, yes! That is just the way it is! Makes me want to walk across the school yard and awaken a swing.
Posted 02/29/2020 04:59 PM
pwax:
Thank you all! Phyllis
Posted 02/28/2020 04:12 PM
Lori Levy:
Great images.
Posted 02/28/2020 03:52 PM
Anastasia:
This captures the time of year so perfectly!
Posted 02/28/2020 02:24 PM
CamilleBalla:
You have described so well my yard that backs up to a tot park.
Posted 02/28/2020 12:16 PM
KevinArnold:
Yes and the image of the swing?yes.
Posted 02/28/2020 12:10 PM
Janet Leahy:
That phrase "old snow" says it all, we are ready for the snow to melt away and have those swings come back to life. Thanks Phyllis
Posted 02/28/2020 11:43 AM
Jo:
You?ve captured this time of year so well. Thank you, Phillis.
Posted 02/28/2020 11:21 AM
MatthewMiller:
Love it! Especially the last stanza, where the children bring things back to life.
Posted 02/28/2020 10:11 AM
michael escoubas:
Zig-zag, criss-crossing! This poem is filled with exciting alliteration and imagery--very nice work, Phyllis.
Posted 02/28/2020 08:27 AM
paula:
Lovely, Phyllis!
Posted 02/28/2020 07:45 AM