I love spring most in the early days of March
when warm weather teases, scoffing at
the ground hog that forecast six more weeks.
I steal daffodils from lawns of strangers
and the flower bed of banks and strip malls.
I haul my coats and sweaters, woolens, boots
to the basement closet, tempted by sleeveless
tops and dresses, by swimsuits and sandals.
 
I force myself to wait to plant my annuals.
I wander through the lawn and garden section
like a shopping addict—Big Boys, Kirby cukes,
green peppers, even tender leaf lettuce—
knowing the likelihood of another freeze.
 
Snow on forsythia makes a lovely photograph
but bed sheets protecting my rose bushes
from frost have less charm. Mid-March,
I count back, trying to recall if she came in
like a lion or like a lamb, discounting
superstitions that point to more winter.
 
How can one month—even a long one—
serve as a sampler for all four seasons,
a meteorological smorgasbord? Taunting,
March teases, tests to see how much
I can take without casting longing eyes
toward April.


© by Nancy Posey.
Used with the author's permission.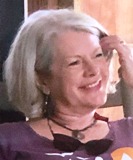 Nancy Posey's poetry and book reviews have appeared in a number of publications. After living in Hickory, North Carolina for many years, she moved to Nashville in 2016 to be closer to her grandchildren. A native of Alabama and a former high school teacher, she currently serves as an adjunct professor at Lipscomb University and co-hosts a monthly open mic. Nancy, who plays mandolin and sings with a faculty band called The Low Expectations, also writes for Music City Music Magazine.
barbsteff:
Very true of March. Came in like a lamb here. We shall see what happens next.
Posted 03/02/2020 01:53 PM
Cathy's Sister:
What a great poem!
Posted 03/02/2020 10:13 AM
paradea:
Good one, Nancy!!! We miss your poetic voice and bubbly personality around Hickory!! You are like a breath of spring, yourself!!
Posted 03/02/2020 10:09 AM
cork:
It is 7? here in Pinedale, WY, and the scenes are frosty.
Posted 03/02/2020 09:04 AM