Loveliest of trees, the cherry now
Is hung with bloom along the bough,
And stands about the woodland ride
Wearing white for Eastertide.

Now, of my threescore years and ten,
Twenty will not come again,
And take from seventy springs a score,
It only leaves me fifty more.

And since to look at things in bloom
Fifty springs are little room,
About the woodlands I will go
To see the cherry hung with snow.

This poem is in the public domain.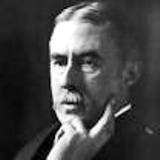 Alfred Edward Housman (1859 – 1936) was an English poet best known for a collective work called A Shropshire Lad, which has remained consistently in print since first published in 1896. A renowned scholar of the classics, Alfred was, for many years, a professor of Latin at Trinity College in Cambridge, where he had a reputation for terrorizing his students and never bothering to learn their names. Widely known and admired even now, Alfred's work is referenced in, and excerpted from, everything from movies to comic books.
Dorcas:
Very lovely. I do not see Cherry trees in NYC. What a pleasure to bring them in words.
Posted 04/07/2015 12:20 PM
Walcottjm:
When one thinks about it this way---I better get on with appreciating each season!
Posted 04/07/2015 10:16 AM
KevinArnold:
A nice way to approach aging, coming in from a natural angle.
Posted 04/06/2015 11:22 PM