Creak, little wood thing, creak,
When I touch you with elbow or knee;
That is the way you speak
Of one who gave you to me!

You, little table, she brought -
Brought me with her own hand,
As she looked at me with a thought
That I did not understand.

- Whoever owns it anon,
And hears it, will never know
What a history hangs upon
This creak from long ago. 


This poem is in the public domain.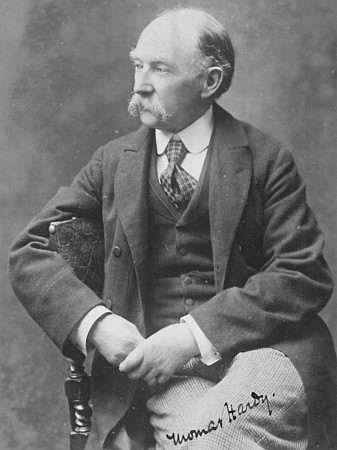 Thomas Hardy (1840 - 1928) was an English writer who always considered himself a poet, although during his lifetime, his notoriety came from his novels. Even today, his novels (Tess of the d'Urbervilles, Far from the Madding Crowd, and Jude the Obscure, for example) are far better known than his poems. Thomas trained and worked as an architect before turning to writing; his attention to detail and his love of the natural world are obvious in his works' lush descriptions of England's country settings. Thomas left behind a huge and fascinating body of work, including poetry collections, novels, short stories, and plays.
paradea:
Love it!!
Posted 03/12/2020 06:21 PM
KevinArnold:
Subtle.
Posted 03/12/2020 12:25 PM
cork:
Little things mean a lot.
Posted 03/12/2020 09:12 AM
mail@schoolbusmart.com:
This poem touches me in the same way he describes that the table touches him. Very nice piece. Randy
Posted 03/12/2020 07:24 AM