How old may Phyllis be, you ask,
Whose beauty thus all hearts engages?
To answer is no easy task;
For she has really two ages.

Stiff in brocard, and pinch'd in stays,
Her patches, paint, and jewels on;
All day let envy view her face;
And Phyllis is but twenty-one.

Paint, patches, jewels laid aside,
At night astronomers agree,
The evening has the day belied;
And Phyllis is some forty-three.
This poem is in the public domain.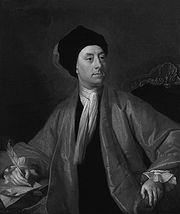 British poet Matthew Prior (1664 - 1721) apprenticed as a tavern-keeper but received a scholarship to attend Cambridge and thus became a scholar and a diplomat rather than a bartender. He served as a gentleman, a secretary, a secret agent, and an ambassador, and was impeached and imprisoned by the opposition for two years, during which time he produced some quite cheerful verse. Though Prior's love poems are a bit stiff, he had a true gift for wit and satire and his talent earned him a final resting place in Westminster Abbey.
erinsnana:
Very funny!
Posted 06/24/2014 09:42 AM
phebe.davidson@gmail.com:
Hah! I like this one a lot---
Posted 06/24/2014 06:10 AM
gigi:
Love it. And all without the miracle of the melons that grow in the south of France. Worked wonders for Cindy Crawford, at least that's what the infomercials say.
Posted 06/24/2014 06:09 AM