At night in bed, storm is theater,
lighting up a black sky, thunder rolling
lion roaring, life in a Serengeti.
Wind coming up, lashing the windows,
then the rain, lighter than promised
steady and fulfilling.

I love a morning rain storm
where the sky, brightening
toward day, darkens again
giving me a wrapped feeling.
Lightning flashes, thunder
so sharp it hurts my ears,
even Cat crawls away, nothing can reach him,
not even us.

The rains come, pouring like honey
on welcoming earth, freshening as it goes.
We can keep it from us with an umbrella,
or covered by a yellow rain slicker.
But sometimes,
the smart answer is to be with it,
stand in awe, let it drip from
the tip of our nose, cover our glasses, slosh in our shoes.
And finally on the other side
of the isobar, it stops and we
are inundated with the sweetness
of negative ions, the scent
of lilacs in the air.


From A Terrible Tenderness (Lulu Press, 2013).
Used here with permission.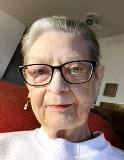 Jackie Langetieg, retired from a career in state government, is the author of three full-length collections and several chapbooks. Active for many years in regional literary activities, she lives with her son in Verona, Wisconsin.
Dianelady:
I could feel the rain running down my face, the squelching of insole to foot.. I loved it. I shall look for more of your works. Stay safe and healthy
Posted 06/15/2020 01:41 PM
Lori Levy:
Yes, beautiful.
Posted 03/25/2020 01:21 AM
jeeger:
Beautiful!
Posted 03/24/2020 04:35 PM
Jo:
the scent of lilacs brings back my childhood. They were right outside our open windows. Wrapped by your poem, Jackie. Thank you.
Posted 03/24/2020 02:58 PM
Janet Leahy:
Love the fresh scents after a rain, especially the lilacs!
Posted 03/24/2020 02:04 PM
Linda Lee Konichek:
I just love the fresh images and feeling in this poem!
Posted 03/24/2020 12:54 PM
BAMars:
I agree with all of the other comments. I need that "wrapped feeling" right now and the comfort of childhood scents. This is a very visceral piece of writing.
Posted 03/24/2020 11:49 AM
Wilda Morris:
I love the line, "giving me a wrapped feeling," and the way the poem begins in a "theater" of storm and ends with the scent of lilacs. That scent is one of my very favorites. It takes me back to my childhood, living in my grandparents home where there were two lilac bushes in the back yard.
Posted 03/24/2020 08:53 AM
mail@schoolbusmart.com:
Storm is theater, yes. And I'm with Larry with isobars and ions. Oh yes and Serengeti and the Lions. When the rains come. Randy
Posted 03/24/2020 07:56 AM
Larry Schug:
"on the other side of the isobar", "the sweetness of negative ions" original ways of expressing the weather and both are pleasing to the tongue.
Posted 03/24/2020 07:31 AM