Below the thunders of the upper deep,
Far, far beneath in the abysmal sea,
His ancient, dreamless, uninvaded sleep
The Kraken sleepeth: faintest sunlights flee
About his shadowy sides; above him swell
Huge sponges of millennial growth and height;
And far away into the sickly light,
From many a wondrous grot and secret cell
Unnumbered and enormous polypi
Winnow with giant arms the slumbering green.
There hath he lain for ages, and will lie
Battening upon huge sea worms in his sleep,
Until the latter fire shall heat the deep;
Then once by man and angels to be seen,
In roaring he shall rise and on the surface die.

This poem is in the public domain.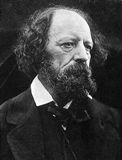 Alfred Tennyson (1809 - 1892) is one of the world's most beloved and enduring poets. Born in a small English village to comfortable, devoutly religious parents (his father was a clergyman, his mother the daughter of a clergyman), Alfred was one of twelve children. He enjoyed an idyllic childhood, though later years brought family issues, and his father's death caused Alfred to have to leave Cambridge without completing his degree. Drawn to poetry from an early age, Alfred's first book of poetry was one he published with his brother when he was still a teenager. He published a collection of his own work shortly thereafter, to very enthusiastic reviews. But three years later, a second book was heavily criticized and Alfred was devastated. Though he continued to write, it was nearly ten years before he published another book. Ultimately, he became England's longest-serving poet laureate, spending more than forty years in that position and producing fine work until he was in his eighties.
KevinArnold:
What a line; ?Winnow with giant arms the slumbering green.?
Posted 03/28/2020 01:38 PM
paradea:
I love this!! What a great description of the mysterious creature!!
Posted 03/28/2020 09:56 AM
Larry Schug:
A new course of study--mystical biology!
Posted 03/28/2020 08:05 AM