Coronavirus or not . . .

I still enjoy
the daily circuit
of the sun
the gradual changes
the way the seasons runó

the way light
filters through maple leavesó
the art that God arranges
the arms of she
who welcomes me . . .

I sit among all of these
and whisper a prayer of thanks
that there remain
so many things
no plague can take away.


© by Michael Escoubas.
Used with the author's permission.
†
†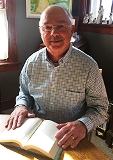 Michael began writing poetry for publication in August of 2013, after retiring from a 48-year-career in the printing industry. He writes poetry because, early in life, his mother encouraged him. Michael also writes poetry because he believes poetry brings people together and that poets are menders of broken things. Michael is the author of three collections--Light Comes Softly, Monet in Poetry and Paint. and his most recent, Steve Henderson in Poetry and Paint.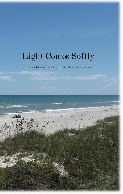 Wilda Morris:
The perfect poem for the situation we are all in. Thank you, Michael!
Posted 03/31/2020 01:48 PM
Jean Colonomos-1:
Thank you, Michael, for this poem full of grace.
Posted 03/31/2020 12:09 AM
Jo:
What a beautiful poem, Michael. Full of gratitude and the healing power of nature.
Posted 03/30/2020 10:38 PM
Carolyn C:
It's a pretty awesome undertaking when you can attempt to be a mender of broken things!
Posted 03/30/2020 05:21 PM
Arlene Gay Levine:
Nature and the power of gratitude -- a healing combination; thanks, Michael.
Posted 03/30/2020 03:29 PM
ladybug:
Nicely done, Michael. Your poems brings hope and a reminder. Susan Moss
Posted 03/30/2020 01:59 PM
DavidTookey:
Beautiful!
Posted 03/30/2020 10:51 AM
bettiebill:
Well done, Mike!
Posted 03/30/2020 10:09 AM
cork:
Balance.
Posted 03/30/2020 09:30 AM
paradea:
Lovely!!
Posted 03/30/2020 08:53 AM
Larry Schug:
This message of beauty is a message of hope, a lesson in humility and grace.
Posted 03/30/2020 08:23 AM
KevinArnold:
Timely.
Posted 03/30/2020 07:55 AM
bbatcher:
Perfectly put.
Posted 03/30/2020 07:37 AM