The neighbors are at war.
It all started with a barking dog
(God spelled backwards)
Someone could not stand the howl, yip and yelp
so they put up a wind chime in an attempt
to feng shui it away but the tinkling annoyed
a third party who enlisted their teenage son
who proceeds to play his drums all Sunday
in a manic rat-a-tat-tat pattern
causing the guy next door
to go wild, fire up his chain saw
and flatten a stand of trees.
Then, silence, until the empty sound
of a leafless breeze reaches the chimes
setting off the dog.
.
†
This poem first appeared in Quest (2014)
Used here with authorís permission.
†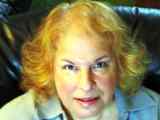 Arlene Gay Levine is the author of 39 Ways to Open Your Heart: An Illuminated Meditation (Conari Press) and Movie Life (Finishing Line Press). Her poetry and prose have appeared in The New York Times, an off-Broadway show, the radio, and more than 30 anthologies and journals. Arlene has served as a judge for Illinois and Virginia state poetry society contests and she is the creator/facilitator of Logos Therapy™, a transformational writing process. Arlene lives with her husband in New York City, where she tends a garden of words, roses and herbs. Learn more about her at http://www.arlenegaylevine.com.
Lori Levy:
Love the humor in this poem.
Posted 04/05/2020 11:51 PM
MLove:
Love it!! This one is going in my "keepers" folder!!!
Posted 04/05/2020 03:03 PM
KevinArnold:
I loved the necessary crescendo of the chainsaw. Inevitable yet a surprise.
Posted 04/05/2020 12:08 PM
cork:
I love the cacophony.
Posted 04/05/2020 09:52 AM
michael escoubas:
Thank you Arlene, our family is all about dogs too. Begin with dogs; end with dogs it seems!
Posted 04/05/2020 08:41 AM
Larry Schug:
Out here in the country it's four wheelers, stock cars, chainsaws (sometimes guilty but only for firewood), firearms of all kinds and firecrackers. Thank goodness for the sound of distant church bells, train whistles, bird song and wind in the trees. More of a jam session.
Posted 04/05/2020 07:40 AM
mail@schoolbusmart.com:
Hahaha. Love it. Randy
Posted 04/05/2020 07:25 AM