If you gaze through a window long enough,
you'll discover your eyes tether themselves
to some trivial chip of scenery: a gray mailbox,
its open mouth tilted skyward like a cannon —
the dark belly of a garbage can harboring secrets:
the brown flesh of a half-eaten pear and the worn skin
of a kitchen towel stained with mustard
and strawberry jam. Your sight will sharpen itself
against your imagination and the darkness insulating
the air between evergreen branches will brighten.
The shade tattooed beneath a row of tulips near
the neighbor's fence will glow.

© by S. Thomas Summers
Used here with the author's permission.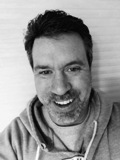 S. Thomas Summers is the author of two books of poetry, Private Hercules McGraw and The Journals of Lt. Kendall Everly. Scott, a professor of literature and writing,  lives with his wife and son in the hills of Northern New Jersey. Currently, although still writing poetry, Summers is crafting a novel based on the imaginary adventures he shares with his son. Says Scott, "The more I play, the more I discover why I write." Learn more about him at
www.inkhammer.wordpress.com

or follow him on Twitter @summerspoet.
jtmilford:
A different way of seeing the world around us that changes everything. Thanks for putting so simply
Posted 04/11/2015 08:22 PM
linkingwords:
love the "darkness insulating the air between evergreen branches"
Posted 04/11/2015 07:43 PM
Dorcas:
Yes, everyone should look through the window in front of you for all contain a different part of life, and each item has its own spirit. Thank you. This is lovely.
Posted 04/11/2015 04:55 PM
karenpaulholmes:
lovely
Posted 04/11/2015 09:46 AM
Glen Sorestad:
Every writer should read this one -- then, read it again.
Posted 04/11/2015 09:27 AM
Larry Schug:
It's what poets do. Now, if I could just make my wife realize that I'm working while staring out the window! You've captured it well, Scott.
Posted 04/11/2015 07:06 AM
rhonasheridan:
Yes Scott Summers. - poetry does indeed give you a deeper appreciation of breath. I love this poem. I have always thought I was being nosey - but just looking gives more than that. It's good to have someone bring this to your attention. Thank you
Posted 04/11/2015 12:39 AM