Gusts grab the tree tops
of the giant Doug Fir
heave them towards the sky
snake around the Red Cedar
howling and snapping branches

Recklessly flinging garbage cans
down the driveway
lifting lawn chairs
effortlessly
into the agitated air

Turning the
waltzing rhythm
of the tree line
into rock and roll
dancing

Frantic wind-shredded clouds
throw tantrums of
epic proportions
run madly to the South
escaping into the distant horizon

The whirling wind
chases after
nipping at the tail
of the racing darkness


© by Judy Shimek Drechsler.
Used with the authorís permission.
†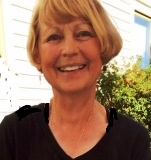 Judy Shimek Drechsler spent most of her teaching career in Anchorage, Alaska, where she taught literacy courses for the University of Alaska - Anchorage and was a full time primary teacher in the Anchorage School District. She retired to Port Townsend, Washington in 2000.and began writing poetry. Judy's work has been published in educational and literary journals and she has done presentations on literacy and writing for many conferences and school districts. Judy is the author of one poetry collection, Falling into One, published in 2016.
barbsteff:
I like "agitated air." And everybody who lves near them callsthem Doug fir.
Posted 04/16/2020 03:22 PM
KevinArnold:
Interesting metric at work here. Doug fir tipped me off that we might be counting syllables.
Posted 04/14/2020 10:29 AM