The sun rises from its depth
to set the world on fire,
water overflows with clouds
thirsting for rain.

Tops of trees shimmer still
following the current light
rootless in the shallows
where the sky edges the shore.

Two lone boats doze and float
the morning, misty as it settles,
the same old man, the same dog,
another day the world allows.


From The Longest You've Lived Anywhere:
New and Selected Poems (Upriver Press, 2012).
Used here with permission.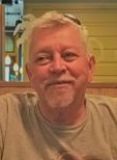 Bruce Taylor taught Composition, Literature, and Creative Writing at the University of Wisconsin-Eau Claire for 35 years. Author of eight collections of poetry and editor of eight anthologies, he served as Poet Laureate for Eau Claire, Wisconsin from 2011 – 2016. Currently, Bruce is host of the Eau Claire reading series, "Off the Page," and curator of Local Lit for the Volume One website. Bruce lives in Lake Hallie, Wisconsin; learn more about him at https://people.uwec.edu/taylorb/.
Wilda Morris:
"The sun rises . . . to set the world on fire." You caught me with the first two lines and kept me reading to the wonderful end lines.
Posted 04/22/2020 08:29 PM
Tracers645:
Nice image
Posted 04/22/2020 05:15 PM
Jean Colonomos-1:
Yes, the poem lingers.
Posted 04/21/2020 11:20 PM
Jo:
Your images are stunning. I?ll be checking out your website. The poem lingers.
Posted 04/21/2020 09:50 PM
wobster109:
Lovely! And a little bittersweet. I hope the old man and dog have many more days to enjoy Mirror Lake.
Posted 04/21/2020 06:22 PM
KevinArnold:
Interesting ending.
Posted 04/21/2020 10:20 AM
Ronaccount:
Scrolling across the screen forced me to read slowly and experience the peacefulness in this poem. I like the concept of dozing boats.
Posted 04/21/2020 09:45 AM
paradea:
Lovely!
Posted 04/21/2020 09:09 AM
Larry Schug:
In my mind, a water color word painting.
Posted 04/21/2020 07:35 AM
paula:
light rootless in the shallows--wonderful!
Posted 04/21/2020 07:18 AM